Sons Of Anarchy Tube Top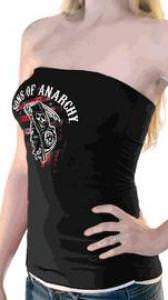 Sons of Anarchy, a cool biker television show that pushes all the limits.
This is a really nice tube top that features the Sons of Anarchy logo what they call as the Reaper, it is the grimm reaper with drips of blood surrounding him and "SONS OF ANARCHY" printed above.
A very durable 100% cotton tube top that will be super comfortable, it is a junior style which means it will be fitted for a sleek and sexy fitted look, find it in sizes Small to XLarge.
Get onto this Sons of Anarchy Tube Top.