Squidward Tentacles Face Sticker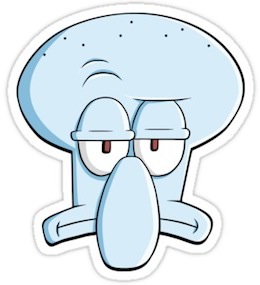 SpongeBob Squarepants fans all know Squidward Tentacles, the neighbor that lives between Patrick and SpongeBob in a house that looks like an Easter Island statue.
And we all know that Squidward is a little bit different then SpongeBob and Patrick but that of course does not stop SpongeBob from including him in alsmost everything that he does not want to be included in.
And now you can have a sticker of Squidward and not just any sticker no it is the sticker of his face with his useall happy smile (NOT). And this is a die-cut sticker witch means that it is shaped like the head of Squidward Tentacles.
And this sticker will love to live on almost anything from you laptop to a t-shirt or from a car to your fridge.
Start decorating with this fun Squidward Tentacles Face Sticker.