Star Trek U.S.S. Enterprise Plush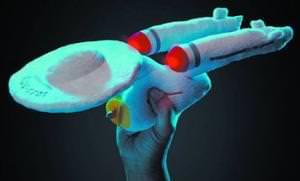 It's time for the U.S.S. Enterprise to boldly go where no ship has gone before…….Your bed.
This is a fun plush replica of the famous Star Trek ship the U.S.S. Enterprise, with just enough detail to make sure every Star Trek fan knows it is the Enterprise.
Other really cool features are when you squeeze the lower portion it makes photon torpedo sounds and has red nacelle tips that light up.
Measuring a foot long, with a six-inch saucer section, this is a great gift for the Star Trek fan.