Star Wars Yoda Christmas Tree topper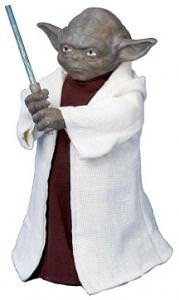 It's a Star Wars Christmas with this master Jedi tree topper.
A tree topper that features Yoda holding a lightsaber looking as powerful as he is and very serious, he is wearing a long white cloke and the entire tree topper is very well detailed.
Measures 12 inches tall and is crafted of resin, Fabrich mache, and plastic all giving it a high quality look and it is very durable.
The lightsaber lights up with a LED light and is absolutely amazing, I'm sure with the Star Wars Yoda christmas tree topper your presents will be safe.
Have a happy christmas holiday with the Star Wars Yoda LED Light Saber Christmas Tree Topper.