Stewie Baby Sling T-Shirt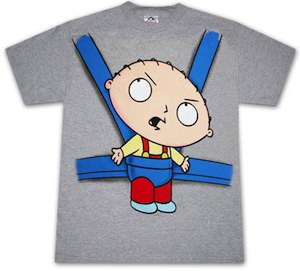 If you like Family Guy and the Hangover then this could be the t-shirt for you.
Just like the famous scene from the Hangover now it is Stewie in a baby sling.
Of course you don't really carry Stewie, he is just printed on the t-shirt so that it looks like you are carrying him.
Family guys fans are gone love this t-shirt as it is just so much fun.
Wait no longer because before you know it Stewie is walking on his own

Go order your Stewie Baby Sling T-Shirt.