Superman Golf Club Head Cover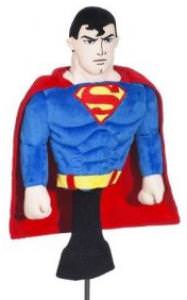 Need to protect your clubs from hitting each other and potentially chipping and breaking?
Why not use a superhero to help protect them, CAUTION!!! May not result in a super score!!!!
This golf club head cover features the upper torso of Superman with awesome detail find bulging muscles a red cape and a Superman logo on the chest, also find a featured face and dangling arms.
Made to be very durable and last a long time with it's double needle stitching it will be extra protective with it's thick padding, will fit up to 460 cc drivers and easily fits smaller ones aswell.
Check out this Superman Golf Club Head Cover.