Superman Luggage Tag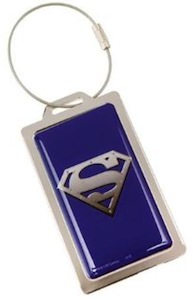 Your luggage can get some super power if you use it with this Superman luggage tag.
This metal luggage tag shows the Superman logo on it. And besides being made out of metal this luggage tag also has a metal chain to connect it to your bags. So now you don't have to worry about loosing you luggage as this tag will stay in place.
The Superman luggage tag of couse has room for your information witch is stored on the inside of the Superman luggage tag.
Never loose your suitcase again when you use this Superman Luggage Tag.