Superman Rain Boots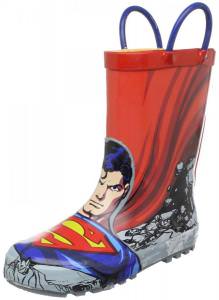 Although rain is not Supermans weakness i'm sure when it rains even Superman will put on a cool pair of rain boots to protect his feet from getting wet and maybe cold.
Have a look at this pair of rain boots that feature the awesome DC Comics superhero Superman, a really nice image of Superman is found on the top of the foot with his red cape flowing up the boot making the rest of the boot red.
You can find these rain boots in sizes Toddler: 5, 6, 7, 8 and Kids: 3, 4, also of course these boots are waterproof and are made from a very durable and sturdy rubber and with easy-on handles, also there is a moisture-absorbing cotton lining that will dry quickly.
Slip into DC Comics Superman Rain Boots.