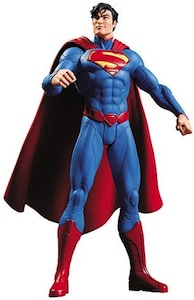 This is a Superman action figure and it is amazing.
And it is not just an action figure no it is the new 52 Superman from the revamped and relaunched DC Comics Justice Leage series.
The action figure as you can see on the picture has amazing details and stands about 6.8″ tall.
If you collect Superman then this action figure can't be missing in your collection.
Just imagine how amazing this action figure of Superman will look in your display of superhero products.
And now come have a better and closer look at this Superman Action Figure.