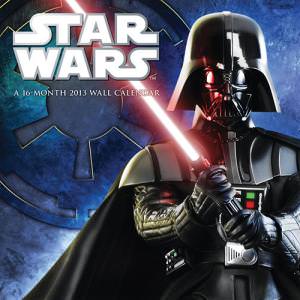 Star Wars fans collect your 2013 calendar here!
This is a calendar for the year 2013 that features all of the Star Wars characters in action packed images, using high quality print the colors are vibrant and jump out at you on every page.
Find Darth Vader, Luke Skywalker,  R2-D2, C-3PO, Princess Leia, Han Solo, AT-AT, Jar Jar Binks, Boba Fett and many other cool Star Wars characters from the movie films Episode I: The Phantom Menace through Episode VI: Return of the Jedi.
A standard wall calendar size that measures Size Closed: 11.5 " x  11.5 " Size Opened: 23.0 " x  11.5 "  and has traditional stapled binding.
Join the dark side or be a Jedi Knight with the Star Wars Saga 2013 Wall Calendar.