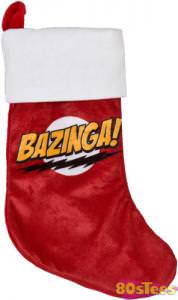 The classic TV series of The Big Bang Theory is loved by many, and the quote Bazinga from Sheldon Cooper is also loved.
Have a look at this Christmas stocking, it features that popular Sheldon Cooper quote, find "BAZINGA!" in yellow across the front of the stocking with the white circle background and a black lightning bolt underlining the text.
This is a great way to support your favorite TV show The Big bang Theory and celebrate Christmas.
Hang up and enjoy The Big Bang Theory Bazinga Christmas Stocking.