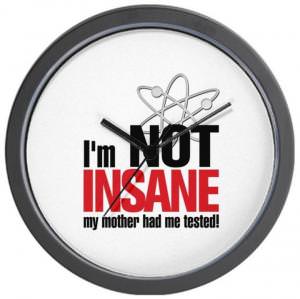 Big Bang fans will know exactly what this phrase is, and know who said it.
This is a wall clock that features a classic line from the geeky comedy TV series show The Big Bang Theory, said by one of the main characters Sheldon Cooper find in the middle of this clock "I'm Not Insane my mother had me tested!".
Measures 10 inches in diameter with a very nice grey border around the outside this Big Bang Theory wall clock is perfect to dress up any room, and will be loved by your fellow Big Bang friends.
Make a fun statement in any room with The Big Bang Theory Im Not Insane Wall Clock.