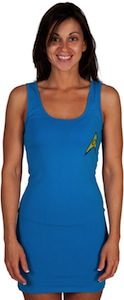 Did you always wanted to be a science officer from Star Trek?
If so and you thought those costumes where not sexy enough then now you are in luck.
You can now get a tank top dress that looks nice and fitting.
The dress of course is light blue and has the Star Trek science badge on it.
The Star Trek dress is made from a cotton, spandex blend to make it feel and look amazing on your body.
It comes in a range of sizes from Small to X-Large.
So now you can surprise you friends at a costume or normal party when you show up in this Star Trek Science Officer Tank Dress.