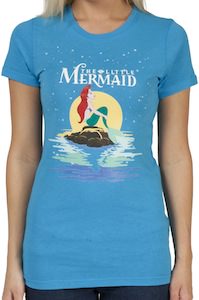 Disney fans who need adult sized shirts are in luck as this women's sized shirt will look stunning on taller kids and adults.
This is a turquoise colored t-shirt with on that a star filled sky and a big moon that touches the water and there is the Little Mermaid sitting on a rock staring at the sky.
Princess Ariel loves to watch the stars at night and now you can wear a t-shirt that shows us that she does that.
This Disney t-shirt is made from 100% cotton and has a medium softness and a worn look.
Ad a Disney princess to your collection by getting this The Little Mermaid On A Rock T-Shirt.