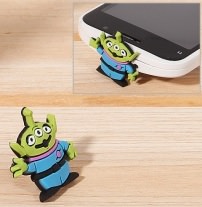 Most of our mobile phones these days have a headphones jack and that of course is great to listen to music on your phone.
But when not in use this headphone plug collects dust when you phone is in your pocket or bag.
Now you can change that by using a fun dust plug.
This plug is looks just like the jack of your headphones and fits perfectly in your phone. And this dust plug has something extra.
There is a little green alien on the dust plug and if you look good in one of his 3 eyes then you know that he is one of aliens from the Toy Story movie.
So if you like this green alien on your phone then come check out this Toy Story Alien Dust Plug.