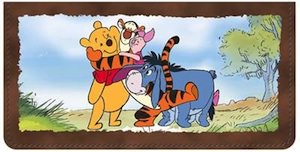 How can Winnie the Pooh not be on everything i own?
Simply because you we didn't find a replacement for everything yet but this time we found a nice checkbook cover to replace the boring one the bank gave you.
This cover shows Winnie the Pooh and his friends Tigger, Piglet and Eeyore together in one big hug.
So brighten up your life with this Winnie The Pooh Checkbook Cover.