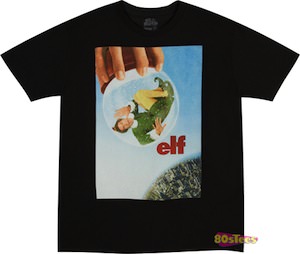 Christmas time makes you want to see Christmas movies and my favorite is Elf the super funny movie with Will Ferrell as Buddy the  Elf.
And around Christmas people like to wear fun Christmas shirts and this t-shirt brings the movie and the t-shirt together.
This black t-shirt shows a photo on it of Buddy in a snow globe and in the background you see New York.
And this 100% cotton Elf t-shirt comes in a range of adult sizes going from Small to 3XL.
So get ready for Christmas with this Elf Snow Globe T-Shirt.