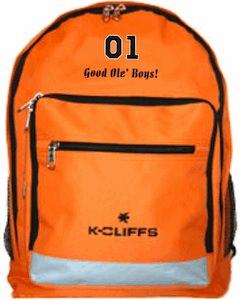 An orange backpack that has a 01 printed on it can only mean 1 thing.
Yes of course, this is a Dukes Of Hazzard backpack.
This backpack is orange and has the 01 on it with below that the world "Good ole' Boy" just like they like to call this car in the TV serie and movie.
This General Lee backpack offers tons of storage space and even has a bottle holder. And it has refelective parts so that you are visible in the dark.
How can a Dukes Of Hazzards fan live with something so fun as this Backpack.
So don't wait come check out all the information about this Dukes Of Hazzard General Lee Backpack.