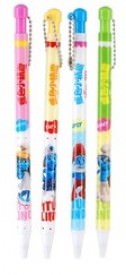 The Smurfs, friendly little blue creatures always ready to lend a hand and help out.
This is a set of fine ball point pens that feature different Smurfs on each one, find Smurfette, Gutsy Smurf, Papa Smurf, Brainy Smurf and other cool Smurf characters each with their name printed along with an image and fun colors surrounding them.
Collect all the Smurfs pens, packages come in sets of four. Show off your love for these cool little blue creatures and let them help you do some work or play.
Get your The Smurfs Ball Point Pens.