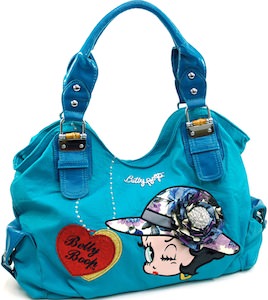 A Betty Boop handbag that is what every girl wants these days and now that wish can come true.
This large shoulder bag is made from faux leather and comes in a range of fun colors.
Each bag has rhinestone elements and the picture of Betty Boop even wears a rhinestone brooch on her hat.
The strap is 11″ long making it the perfect size for holding it comfortably around you shoulder.
And the outside and inside compartments have a zipper closesure to make sure you don't loose any of your belongings.
Come and have a closer look at this amazing Betty Boop Shoulder Bag.