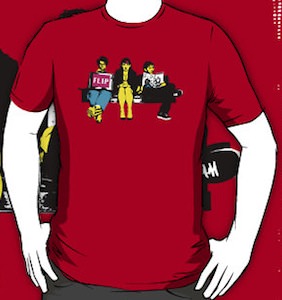 There they are the staff of the IT department of Reynholm Industries.
All 3 of them are sitting on a couch with Maurice on the left and Roy on the right and jen Barber the head of IT in the middle.
And this whole fun scene can be found on this t-shirt. The colors are a bit of if you expect a photo but they look awesome on one of the many colored shirts that this picture comes on.
If the IT Crowd is your kind of humour then this t-shirt should be in your collection.
Now is the time to come have a better lookg at this IT Crowd On The Couch T-Shirt.