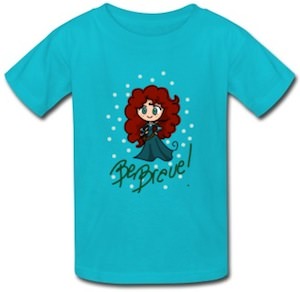 Did you see the Brave movie?
If you did then you learned that being brave is a good thing and that is what this t-shirt is all about.
T-shirt shows Merida surrounded by some snow flakes and below her picture it says "Be Brave!".
I showed you a turquoise colored version of this t-shirt but it comes in all kind of colors and the kids are gone love this t-shirt but if you as adult want one then you are in luck as adult sizes are also available of this t-shirt.
So be brave and order you own Merida Be Brave T-Shirt.