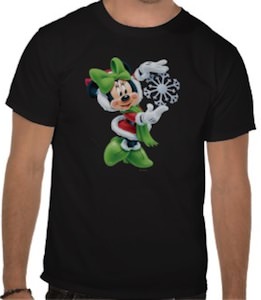 This t-shirt is all ready for Christmas.
On this t-shirt you can see Minnie Mouse all dressed up in a Santa like costume with a green bow, scarf and shoes and in her hands she has a  giant snowflake.
This Disney t-shirt is the perfect Christmas t-shirt and it comes in a bunch of fun colors and styles for kids and adults.
So get ready for Christmas while wearing this Minnie Mouse Snowflake T-Shirt.