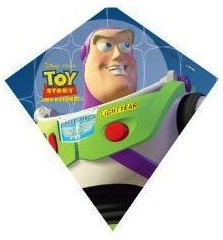 Kids love to fly kites with their parents so if your kid does not have a kite yet then you should check this out.
This single line kite has a picture on it of Buzz Lightyear the space ranger from the Toy Story movies.
This kite is 22″ wide and 23″ high and is easy to assamble and fly.
And the Toy Story kite does not need to much wind to make it take off so soon you all are staring at Buzz Lightyear flying.
Come have a better look at this Toy Story Buzz Lightyear Kite.