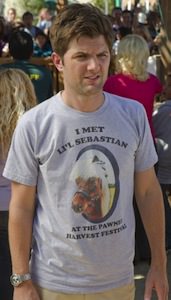 Do you want to wear the same t-shirt as Ben Wyatt did on Parks and Recrations?
Now you can, just click the buy now button and you are good to go.
This t-shirt is the exact t-shirt that Ben wears on TV in the Harvest Festival episode.
And that even though Ben didn't understand the whole fuss about Li'l Sebastian.
OK back to the t-shirt. On this t-shirt you see a picture of the miniture horse Li'l Sebastian.
beside the picture the shirt says "I met Li'l Sebastian at the Pawnee harvest festival".
This fun Parks and Recration t-shirt comes in a range of adult sizes to make you look like a true visitor of the Pawnee Harvest Festival.
So don't wait come and get your Parks And Recreation I Met Li'l Sebastian At The Pawnee Harvest Festival T-Shirt.