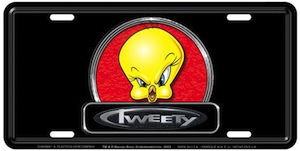 Are you looking for the perfect license plate for you car or just decorations?
If you like the little yellow bird from the Looney Tunes Cartoons then you are in luck.
This plate is black and in the middle you see a not happy Tweety against a red background and above her name.
The Tweety license plate is 12 x 6 inch and is made from rust resistant aluminum.
So if you like to dress up your car then come get this Looney Tunes Tweety License Plate.