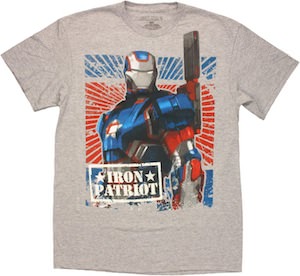 In the Iron Man 3 movies we will not just see Tony Star as Iron Man and Iron Man will even change color.
This light grey t-shirt shows a distressed looking background with a blue Iron Man in front of that. This Iron Man is all in patriot colors and that is why it also says "Iron Patriot" on it.
If you are looking for that t-shirt that says Iron Man 3 all over it without it actually saying anything besides the picture of Iron Man then you found it.
This Iron Man 3 t-shirt comes in a wide selection of adult sizes so that you can get the t-shirt that fits you like an Iron Man suit.
Come and check out this Iron Man 3 Iron Patriot T-Shirt.