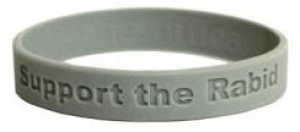 The Office, a classic television comedy series with so many quirky and memorable moments it is hard not to love the show.
This is a bracelet that takes after the very important cause "Support the Rabid" that The Office boss Michael Scott has chosen to support and try to make people aware.
A rubber bracelet in a light grey color that has the imprint "Support the Rabid" twice around the outside of the bracelet.
So get out and participate in Michael Scott's Dunder Mifflin Scranton Meredith Palmer Memorial Celebrity Rabies Awareness Pro-Am Fun Run For The Cure today!