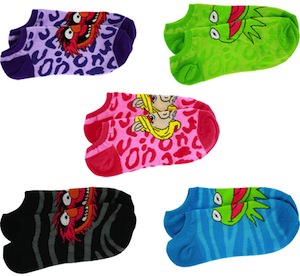 Stop wearing boring socks and start making your  feet look fun.
A good start would be this set of 5 pair of Muppets socks. Each pair is different and there are 2 pair of Kermit socks, 2 pair of animal socks and one pair of Miss Piggy socks.
These socks come in women's size 9-11 and are ankle socks.
And the socks have fun colors to make you day even more bright.
Come check out these The Muppets womens socks.