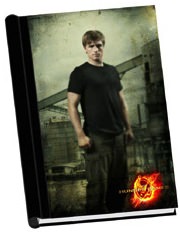 Do you want to write a journal?
If so then maybe this amazing looking Hunger Games journal will be a great place to start writing in.
This journal has a picture on the front of Peeta Mellark and in the background you can see the mines from district 12.
And as almost all Hunger Games products this one also has a burning Mockingjay on it.
Before you can start writing you should first order your own The Hunger Games Peeta Mellark Journal.