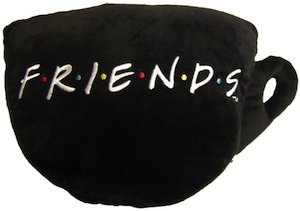 What do you cuddle with while watching reruns of Friends?
We found you the perfect cuddle pillow.
This black pillow is shaped like a coffee mug just like they used in the Friends TV series and it even has the Friends logo on it.
It would be perfect for at Central Perk but that coffee shop only excisted in the TV series so no way to run in to Ross, Rachel and the rest of the Friends gang in this coffee shop for real.
But if your couch has some empty spots then some coffee mug pillows will dress it up nicely.
Come and check out this Friends Coffee Mug Pillow.