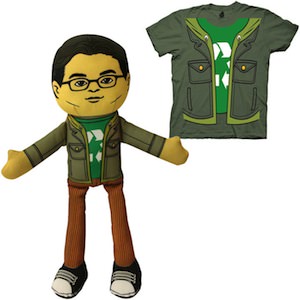 The Big Bang Theory is still one of my favorite TV shows of all time and Leonard is one of the favorites (besides Penny).
And now you can get a plush of Leonard Hofstadter and to make it even more fun the plush comes with a t-shirt for you and it looks the same as what Leonard the plush is wearing his green recycling t-shirt and his green jacket.
Leonard love to sit on the couch and this plush prefers Sheldon's spot.
And he is great to cuddle with while watching reruns of The Big Bang Theory.
The T-Shirt comes in a wide range of adult sizes and will make you look super nerdy.
So now is the time to get your The Big Bang Theory Leonard Hofstadter Plush With Matching T-Shirt.