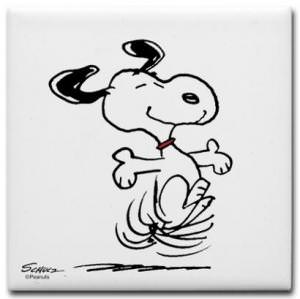 The fun loving character from the Peanuts Gang, Snoopy is always having fun and dancing around and really just making everybody smile.
This is a coaster that features Snoopy in the classic hand drawn comic strip look with him dancing, check out the artwork his legs moving and kicking all over the place and a great big smile and fun floppy ears.
Each Peanuts Gang Snoopy dancing coaster measures 4.25″ x 4.25″ and are 1/6-inch thick, these will make a perfect table top coaster to lighten up any room with some classic comic strip art.
Get a closer look at the Peanuts Gang Snoopy Dancing Coasters.