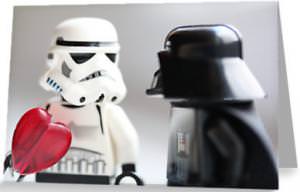 Star Wars fans will love this fun card that features a stormtrooper holding a heart and ready to give it to Darth Vader, and the best part of this image is the characters are LEGO characters.
This card is high quality with an awesome image, find it in a 4 inch x 6 inch greeting card and a 5 inch x 7.5 inch greeting card aswell as an option for a 4 inch x 6 inch postcard.
You can also get the Star Wars Darth Vader Stormtrooper heart image as a poster or prints of many sizes and styles.
Take a closer look at the Star Wars Darth Vader Storm Trooper Heart Card.