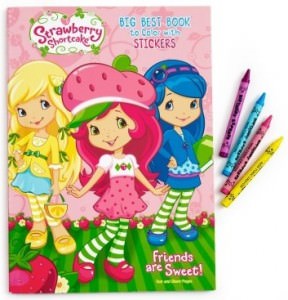 Friends are Sweet!
These friends truly are sweet with names like Lemon Meringue and Blueberry Muffin, which are featured on the cover of this book alongside Starwberry Shortcake.
This is a Strawberry Shortcake set of coloring books that feature great images to color in of Starwberry Shortcake and many of her friends, also coming with cool stickers.
Each package includes 8 coloring books with stickers and 8 packages of crayons, a great way to entertain at a party or perhaps as party favors.
Get your Strawberry Shortcake 8 Coloring books With Stickers And Crayons.