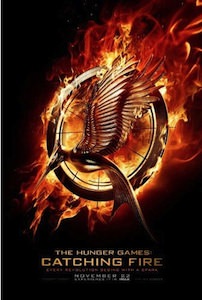 What comes after the first Hunger Games movie?
Yes the second one and this one is called The Hunger Games Catching Fire and we found the movie poster for you.
This poster shows a burning Mockingjay like we are used to by now but this one is different and it doesn't seem to be the pin that it is in front off.
Could it be the something from the areana of the games?
Any this poster is what a true fan wants on it wall, this Hunger Games poster is 27 x 40 inch and could be yours.
So come and have a closer look at this The Hunger Games Catching Fire Poster.