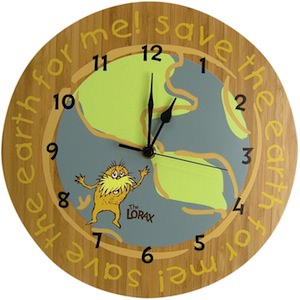 The movie The Lorax teaches us to be nice to our planet and now there is a nice wall clock to make us remind about that message.
This wall clock has a diameter of 11 inch and on it you see of course The Lorax and a small map of the earth and around it on the out part it says "Save the earth for me!"
If you like Dr. Seuss and the message of the Lorax and are in need of a new wall clock then you are in luck.
Come check out this Dr. Seuss The Lorax Wall Clock.