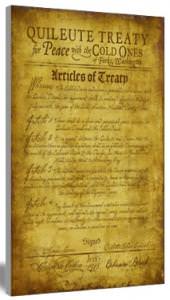 "…They claimed to be something different, so we made a treaty with them. If they promised to stay off the Quileute lands, then we wouldn't expose them for what they really were… to the pale-faces."
This is your very own copy of the famous treaty made between 5 Cullens, Carlisle Cullen, Edward Cullen, Emmett Cullen, Esme Cullen, Rosalie Hale and the Quileute Tribe where Jacob belongs to.
Printed on canvas which is heavy duty and will look absolutely amazing in any room it is crafted with durability in mind, with UV-resistant archival inks and stretched on 1 1/2″ wood stretcher bars which won't warp or crack.
Available in many different styles, also check out the many types of prints from posters to framed and wall decals.
Get a piece of history with this Twilight Cullen Treaty Canvas Art.