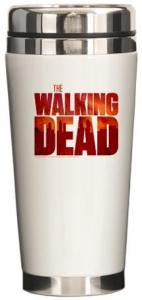 Make a statement with your favorite beverage of choice to go.
This is a great travel mug to show off your love for the cool, gruesome and fun TV series of The Walking Dead, find a large text logo that says "THE WALKNIG DEAD" printed in a blood red color.
A very durable mug that is made to last a long time from a nice hard ceramic outer shell and a stainless steel inner, with this combination you will be able to keep all of the 15 ounces of your choice beverage nice and hot.
Have a closer look at The Walking Dead Blood Logo Travel Mug.