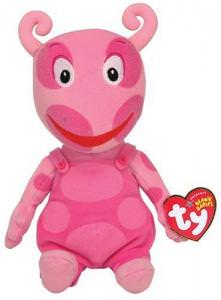 The Backyardigans is a TV show that helps your child learn, grow and most importantly having fun with their imagination using song and dance.
This is a plush made by the company Ty and is from their Beanie Babies collection, find Uniqua the very friendly pink polka dotted Backyardigan wearing the matching pink polka dotted overalls.
Made to be durable and is a very high quality hand made plush this Uniqua measuers approximately 6 inches tall and will look great with the rest of your Backyardigans.
Collect this Backyardigans Uniqua Ty Beanie Babies.