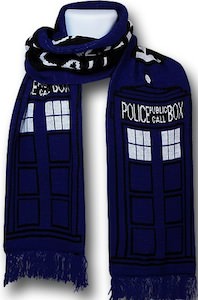 Doctor Who fans of course have seen scarf like this on the internet but now you can buy one for yourself.
This 6 feet long scarf is mainly Tardis blu and even shows the Tardis police box on it and in big letters "Police public call box".
Now you don't have to be cold again as you can wear this scarf on any ocasion to keep you warm and cool.
The Doctor Who Scarf is nice and thick and will last you many travels with or without the Doctor.
Come and have a closer look at this Doctor Who Tardis Scarf.