Ted Great Night Laptop Skin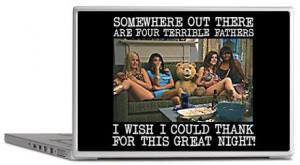 OK! Ted is soft and cuddly, sometimes well manered and very cute.
BUT! Do not let that fool you, he really is a very foul and rude bear, not teddy bear ….. BEAR!
This is a great laptop skin that will show off your love for the hit movie Ted, find a scene right from the movie with Ted sitting on a couch with four good looking girls and the quote "SOMEWHERE OUT THERE ARE FOUR TERRIBLE FATHERS I WISH I COULD THANK FOR THIS GREAT NIGHT".
Made to fit many sizes of laptops like Toshiba, Acer, Dell, HP, Asus & Apple Macbook laptop or netbook, there are many sizes of skins to get the right fit for you.
Spice up your laptop with the Ted Great Night Laptop Skin.