Ted Pot Leaf Gel Mousepad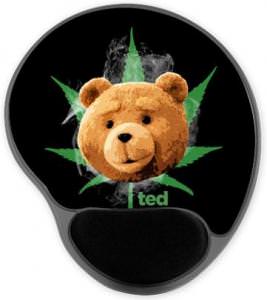 Ted from the classic comedy movie Ted is a teddy bear that is on the edge ….. and he needs soothing and some calming down once and a while.
Featured on this mousepad is a large head shot of Ted with a green weed leaf behind him with a cloud of puffed out smoke and his name "ted" printed in green, all with a black background.
Made to be very durable and last a long time this mousepad also features an ergonomic gel pad that will better support the wrist while you browse and check out all of your favorites.
Try out the Ted Pot Leaf Gel Mousepad.