The Dark Knight Rises Cityscape Wallet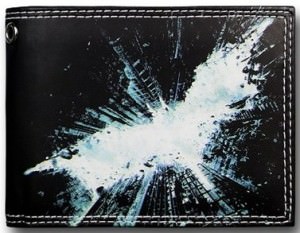 Batman fans know exactly what this symbol is.
This is the awsome Batman The Dark Knight Rises cityscape logo, with great detail an image you can remember and all printed on the outside of this amazing wallet.
On the inside you will find one side compartment for ID, it is see through and behind is a cool Dark knight logo, the main bill compartment when the wallet is unfolded the lining also has a Dark Knight logo.
The wallet is made from high quality material and has all the necessary compartments to make a very useful wallet, so Batman fans let the Dark Knight protect your valubles.