The Doctor In The Mist iPhone And iPod Case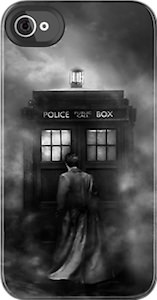 This is in my eyes the most amazing Doctor Who case for the iPhone and iPod touch.
On the picture you see the 10th doctor getting ready to enter the Tardis and this all is in black and white and all surrounded by a cloud of mist.
Because of this special scene with Doctor Who and Tardis you just want to have this case and luckily this Doctor Who case is availible for a wide range of devices, you can get it for the:
iPhone 3G
iPhone 3GS
iPhone 4
iPhone 4S
iPhone 5
iPod Touch 4th generation
Not only is this amazing case availible for this whole range of Apple devices it also comes in a deflector or capsule version. Deflector meaning that it is one piece and Capsule that it has a bottom part that can come of so that it fits in docking stations that do not offer room for a case.
A true fan of the Doctor wants to order now so come and get your Doctor Who & Tardis In The Mist iPhone And iPod Touch Case.
Check out other Doctor Who Merchandise at THLOG.COM: