The Goonies iPhone And iPod Touch Case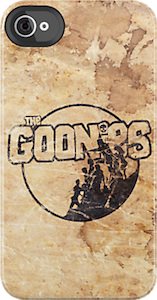 The Goonies movie maybe old but still it keeps in out memories.
For me the scene where they all slide down the water slides is something that I will not easily forget.
And if you like the Goonies and still have an iPhone or iPod touch that is not protected with a case. Then come check out this case.
It is a hardcase that fit real snug around you iPhone and it looks like marbel with a Goonies logo printed on it.
This logo of course says the words "The Goonies" and shows the boys on the lookout for something special.
You can get this case for the following Apple devices:
iPod Touch 4e generation
iPhone 5
iPhone 4S
iPhone 4
iPhone 3GS
iPhone 3G
And it doesn't matter witch case you choose it will work perfect with your phone or iPod.
So don't wait come check out this The Goonies iPhone And iPod Touch Case.