The Hobbit The Lonely Mountain T-Shirt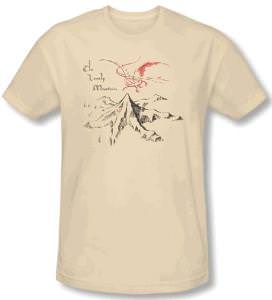 The Hobbit: An Unexpected Journey.
The first movie in this series, in this movie Bilbo Baggins and a group of Dwarves journey to the Lonely Mountain  to take back treasure stolen from them by the dragon Smaug.
This t-shirt features the Lonely Mountain as it stood hundreds of miles from the nearest mountain range on the tolkien's map of middle earth, find a close up of the Lonely Mountain and flying above is the dragon Smaug in red color.
Made to be a durable t-shirt while also very a soft and comfy t-shirt, available in sizes Small, Medium, Large, XLarge, 2XLarge.
Take a closer look at The Hobbit The Lonely Mountain T-Shirt.