The Hunger Games Jigsaw Puzzle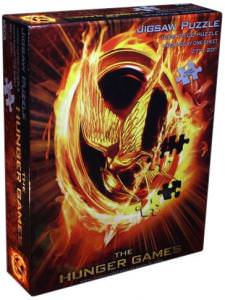 Do you know The Hunger Games like a puzzle?
Well now it's time to put it to the test with The Hunger Games jigsaw puzzle, you will find the mockingjay pin that Katniss Everdeen wears as the main focal point of the puzzle.
The mockingjay is completely on fire and looking absolutely amazing when the puzzle is put all together….that is if you can finish this puzzle.
Measuring a huge 20 inch x 27 inch this puzzle has 1000 peices to keep you busy trying to build the mockingjay on fire.
Test your skills with The Hunger Games Mockingjay Jigsaw Puzzle.
Check out other The Hunger Games Merchandise at THLOG.COM: