The Hunger Games Logo Shoe Laces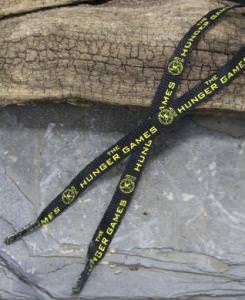 So you love the hit series of novels and movies The Hunger Games, and you need to have all things Hunger Games.
Check out this unique item, this is a pair of shoe laces that feature the official movie logo with the text "THE HUNGER GAMES" and the mockingjay logo both in golden yellow on a black lace background.
Each shoe lace is 50 inches long which will fit most shoes and are packaged in a really cool clear plastic cylinder case that has the official Hunger Games logo.
Lace up your own The Hunger Games Logo Shoe Laces.
Check out other The Hunger Games Merchandise at THLOG.COM: