Tinker Bell And Periwinkle Dolls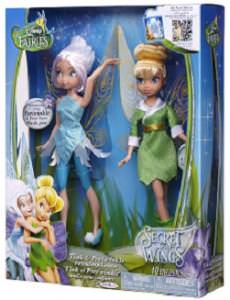 If you are a fan of the Disney Fairies then you will love this 2 doll set featuring two awesome Fairies.
From the Disney animated movie Secret of the Wings this is Tinker Bell in her winter fashions a bigger green leaf dress, also you will get Periwinkle the winter fairy in a really well detailed and nice looking ice blue outfit.
Perfect to reenact scenes while you watch the Disney fairies movie Secret of the wings.
Includes a pixie pass code that will allow you to unlock magical pixie diamonds for your online fairy at Pixiehollow.
Collect and play with Disney Fairies Tinker Bell and Periwinkle Dolls.